LDE UTC Engineers of the Future Supported by Buckingham Group Contracting Ltd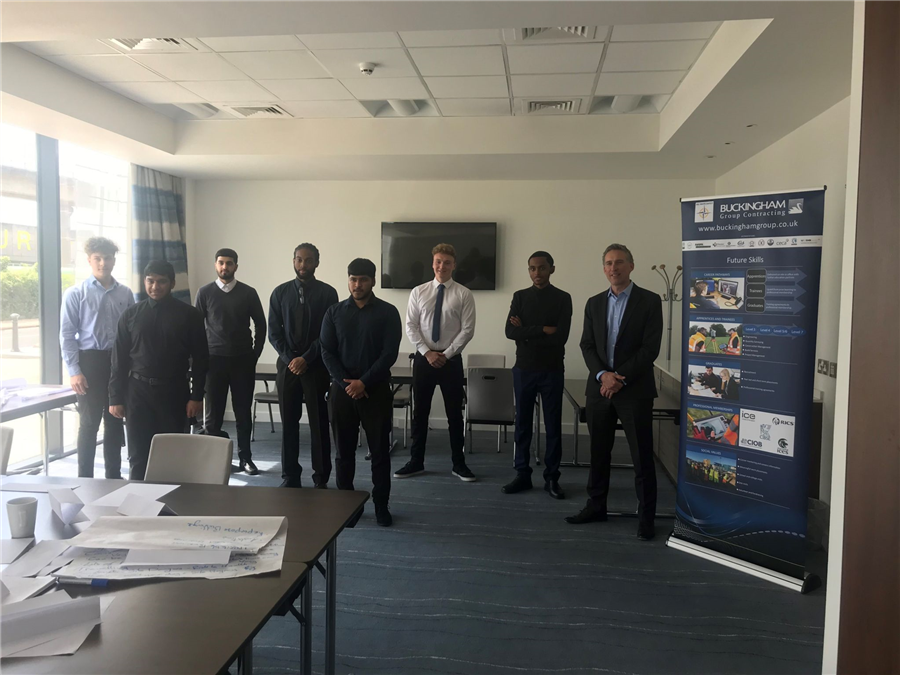 LDE UTC Engineers of the future being supported by Buckingham Group Contracting Ltd (BGCL)
The BGCL Future Skills Team linked up with London Design & Engineering UTC to provide some of our Year 13 students an opportunity to take part in an assessment day for potential new apprenticeship opportunities at their Rail site at Beckton Station. Candidates applied with their CV to a real job advertisement and were invited to attend a formal assessment day.
They were welcomed by the team who gave an overview of BGCL as a whole and of the local project. Understandably, they were nervous and quiet for a group of teenagers, however just half an hour into the first session and they were all fully engaged & actively taking part. Over the course of the day they were assessed over 4 interactive sessions where they were observed on working as a team, their communication skills & their ability to negotiate & think creatively – skills which are vital to a successful career in construction. As a result of the day, two candidates are delighted to have been offered positions with BGCL and all candidates are happy to have received some essential experience that will benefit them in future interviews.
Janice Tricks - Careers Lead said, "This was a great opportunity for our London Design and Engineering UTC learners. We are so grateful for the chance to introduce you to some of our great young people and delighted that two of them have secured their next steps with you. We look forward to watching them from the sidelines, and hope to have further engagement with you throughout your project in Beckton".
Rachael Land, BGCL - "Glad to be part of a company who really invests in their future employees. There's a reason we retain over 90% of employees on our Future Skills programmes and it's due to the excellent career pathways on offer, including professional membership and the support offered internally. We look forward to working with our new recruits!"