Apprenticeship Opportunities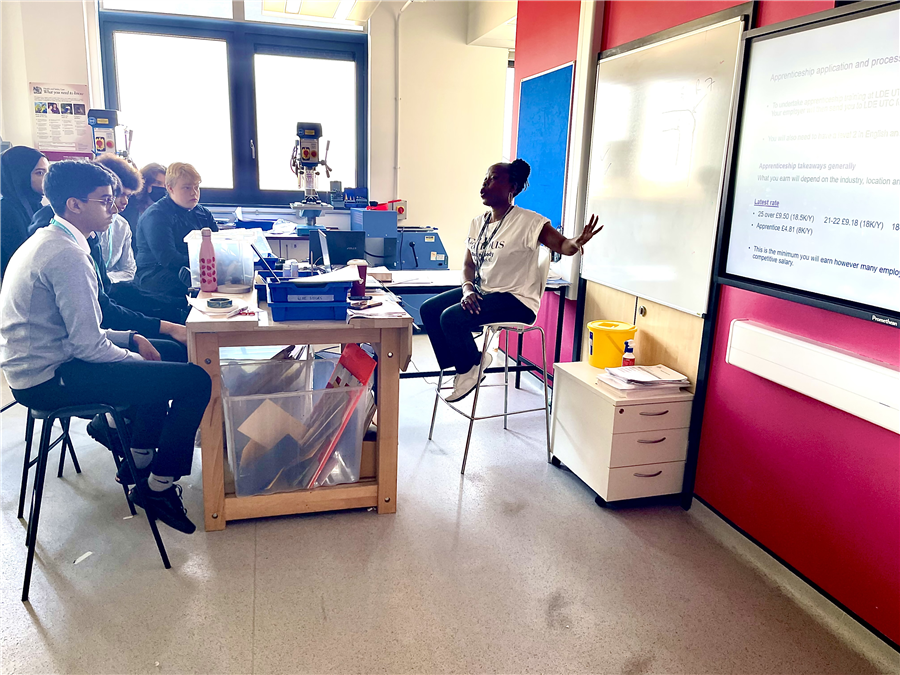 Our year 12 product design learners were visited by Apprenticeship Coordinator Beatrice Lamah to discuss the apprenticeship opportunities available at LDE UTC. We are a registered Apprenticeship Training Provider, offering a blended learning approach to provide our apprentices with the knowledge, skills and behaviours required to achieve their chosen apprenticeship standard.
During the session, Beatrice talked learners through the application process and course structure for apprenticeships at LDE UTC. She shared videos from our year one apprentices, Andreas and Edjer, detailing their experiences on the course, which offered learners an informed perspective that they could relate to.
Learners also discussed the benefits of choosing an apprenticeship after A-levels, such as developing a stronger sense of independence, getting paid whilst being educated and the increased likelihood of receiving a job following their apprenticeship studies. Learners were also surprised to see the range of well-paid apprenticeship positions available in many industries.
Finally, the session was concluded with a productive Q&A session, where many misconceptions about apprenticeships were addressed as learners gained a better understanding of exactly what an apprenticeship has to offer.
'Giving this talk has been a great opportunity to help broaden the learners' career options by introducing them to our apprenticeship programme. Our learners now have a better understanding of what an apprenticeship is, and I hope this will help them to make a better, more informed decision about their future studies.' - Beatrice Lamah, Apprenticeship Coordinator.
We believe it is vital to support our learners in their next steps post 16, and we strive to educate our learners on the range of career and educational paths that can help them accomplish their vocational ambitions.