Case Studies and Statistics with year 10 Geographers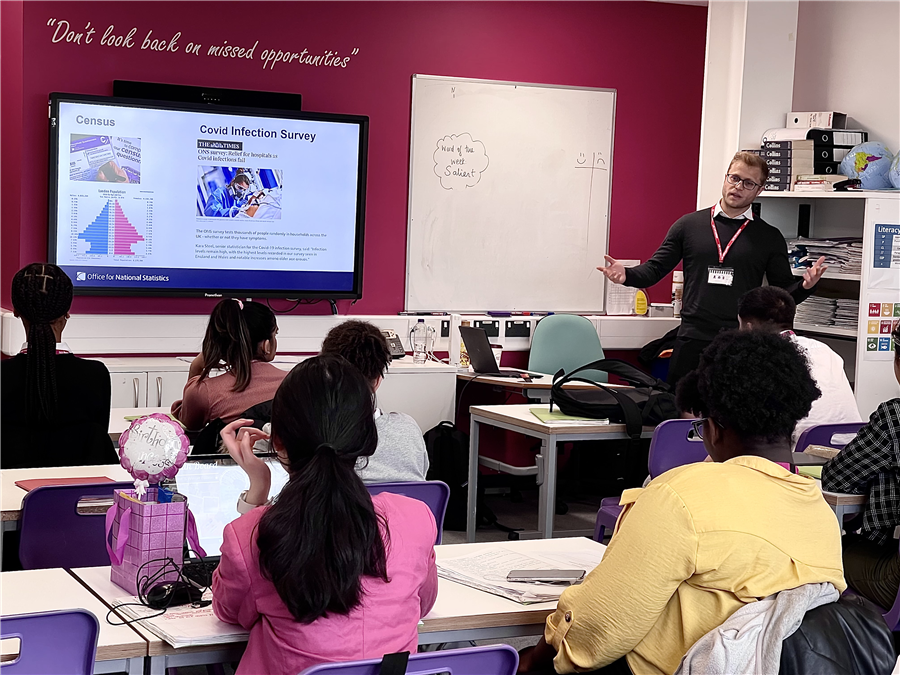 Year 10 Geography learners enjoyed a visit from Senior Analyst Adrian Baeck from the Office for National Statistics (ONS).
The Office for National Statistics is the UK's largest independent producer of official statistics. They are responsible for collecting and publishing statistics about many areas of life including the economy, society and population.
This interactive session helped our year 10 geography learners prepare for their employer led project: to analyse the difference in phone use between men and women using social research methods.
The session began with discussions about two vital forms of data that are produced by the ONS: the census and the COVID infection summary. The class discussed why this data is important and how it has been used to benefit the country- they also discussed how they have even used this data themselves in previous Geography lessons.
Adrian then moved onto the focus of the session- using social research and data collection to measure, describe, explain and predict social and economic phenomena. They discussed different research methods and ways of presenting data such as surveys, controlled trials, qualitative research and case studies.
Adrian used his wealth of experience and expertise to guide learners on how to approach and analyse data. As the end of year 10 exam requires learners to analyse different sets of data from an unknown case study, it was great to have a senior analyst support our learners in developing this skill.
Adrian concluded the session with a brief overview of the careers available in Government Social Research and the Civil Service. He discussed how the Civil Service impacts our day to day lives such as through the department of trade, education and transport. As many learners had not previously heard of the Civil Service, they were intrigued to find out how much it affects the nation we live in and the range of job roles that are offered.
Year 10 learner Azzy shared, 'I knew a little about his job and the Civil Service but it was interesting to hear more about what they do and how statistics support them in their job.'
'Our learners enjoyed an interactive and informative session to prepare for their employer led project. Adrian's visit offered them the privilege of learning about analysing data from the expertise of an accomplished industry professional,' Sabrin, humanities teacher.