International Men's Day: Barbershop Talks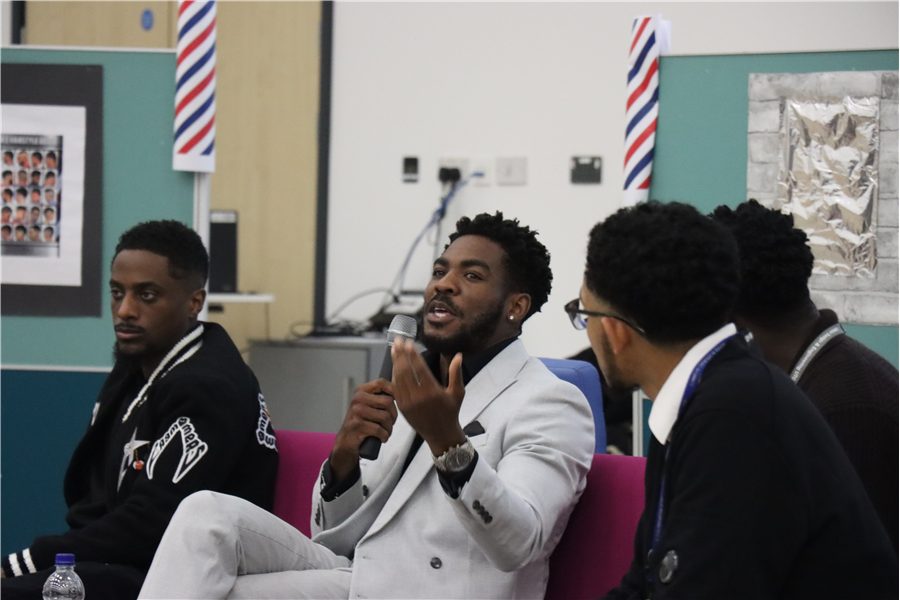 To celebrate International Men's Day, our learners were treated to a captivating panel talk session—named "Barbershop Talks"—where they had the privilege of hearing from inspirational men representing diverse vocational backgrounds. The title pays homage to the barbershop environment, a communal space where men traditionally engage in various discussions.
The panel featured compelling insights from distinguished individuals:
Iffy: Former footballer who is now Head of Race, Equality, and Inclusion at the FA Premier League.
Jay Angelo: A British-born Caribbean artist, designer, and musician challenging societal biases through visual and musical exploration.
Godfrey: English footballer playing for Isthmian League Premier Division club Margate, with previous stints at St Albans City, Luton Town, and Mansfield Town.
Paul: Experienced Community Organiser and with a history of working in the civic & social organisation industry.
During the discussion, these role models shared their personal journeys, recounting defining moments of highs and lows that shaped both their lives and careers. The session was expertly facilitated by our year 13 learner, Muzammil, who posed thought-provoking questions, such as 'how important is it to share knowledge within our community' and 'why has masculinity become such a toxic term and what can we do to highlight the importance of masculinity whilst not making it toxic.'
When reflecting on the vital role he played in making this event so successful, Muzammil shared, 'It was good facilitating the panel I wanted to achieve a deeper understanding of what manhood is And what a social role men have to play in society.'
Learners also took part in an engaging interactive activity where they were tasked to brainstorm ideas for creating spaces in workplaces, schools, and communities tailored for men. Learners had many insightful ideas, ranging from therapy and physiotherapy spaces to regular promotion of opportunities.
The session concluded with an open Q&A, allowing our learners to delve deeper into the inspiring narratives shared. Questions ranged from inquiries about the panelists' inspirations to discussions about their career highlights,and even continued to after the session where learners were excited to engage in individual conversations with our visitors.
Our chaplaincy Edward, who organised today's event, shared: 'Let's redefine masculinity and celebrate vulnerability it's time to see men in a different light. We are so grateful to our panel guests for taking part in such productive and inspiring discussion among the young men of LDE.'
The celebration of International Men's Day through "Barbershop Talks" not only provided our learners with diverse perspectives but also ignited meaningful conversations about masculinity and community-building.