Resident Poet Delivers Creative Writing Workshop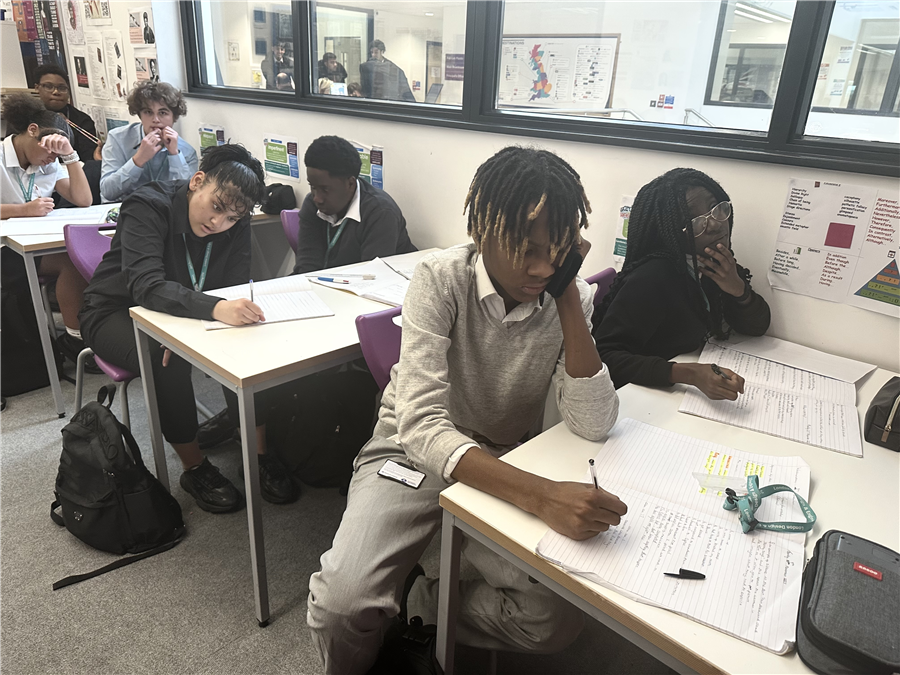 The captivating world of poetry came alive as our resident college poet joined forces with our Year 9 English learners for an immersive creative writing workshop. The session centred around the theme of "finding your poetic voice."
Lewis, our resident poet, is a Spoken Word Poet who has performed across London. He is currently pursuing a master's degree in creative writing, and his passion for poetry was evident in his engaging workshop.
The session commenced with a profound exploration of the essence of poetry, posing the fundamental question, "What is poetry?" This introspective beginning set the stage for a journey that would enable our learners to discover their own poetic voices.
A thought-provoking and interactive activity added a unique dimension to the workshop. Learners were presented with a series of statements, from the influence of social media on self-image to the eternal debate about pineapples on pizza. Their task was to express whether they agreed or disagreed with these statements, fostering a platform for them to voice their opinions.
The heart of the session revolved around three compelling creative writing workshops. These workshops guided our learners in unearthing their poetic voices by encouraging them to pose a series of personal questions, employ the poetic technique of anaphora, and draw inspiration from their interactions with partners. These elements collaboratively served as the foundation for each learner to craft their unique poem.
This masterclass brought to life the tremendous power of poetry and its accessibility for our learners. It was a powerful reminder that education should not merely involve the analysis of poetry but also encompass the active engagement of learners in crafting their own poetic masterpieces. By doing so, we bring the art form to life and empower our students to find their voices through the beauty of words.
The session fostered creativity, self-expression, and an enduring appreciation for the poetic arts.
'It is so great to share with our learners the power of poetry and how accessible it for them. I believe that learners shouldn't just be analysing poetry in English, but actively engage in creating their own poems to bring the art form to life,' Lewis, Resident Spoken Word Poet.